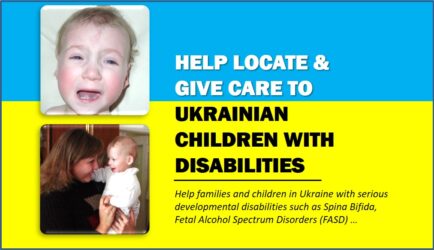 OMNINET - MEDWORD LLC
MEDICAL TERMINOLOGY - TERATOLOGY - DYSMORPHOLOGY
Clinical Eye Openers
ONGOING WAR IN UKRAINE
Our priorities must respond to the threat posed by Russia to Ukrainian children in particular those with developmental disabilities. Please follow our postings and appeals for assistance.
-----------------
Our goal is to disseminate and develop information regarding causes, care and prevention of human developmental disorders (Teratology* – Dysmorphology).
* Teratogens: particular agents (genomic or environmental) that disrupt development in particular ways. Dysmorphology: visually detectable alterations of growth and shape patterns.
Notice: the contents presented seek to enhance visual and verbal literacy. The contents are not sufficient nor have the intent to sustain aims of diagnosis and clinical management.
Inception and roots of OMNI-NET UKRAINE PROGRAMS.
Following the Chornobyl disaster the question arose whether an epidemic of birth defects would follow. Such concerns eventually led to the formation of a World Alliance for the Prevention of Birth Defects and to the OMNI-Net Ukraine Programs.
Implementation of World Alliance for the Prevention of Birth Defects principles: